Travel Tech Essentialist #18: Alternative
---
Alternative: different from the usual or conventional. Whether we are talking about transportation, accommodations, marketing channels or even uses for the age old luggage, many of the stories in this year's first newsletter show how innovation is also all about the search for alternatives.
---
1. Money is pouring in to startups offering alternative accommodations for business travelers
The Guild raised $25M to expand its apartment-style hotel presence. This comes after a $8.5M Series A round in 2018. The Guild had $10M in revenue in 2018, around $25M in 2019 and expects to grow by 100% this year. Business travelers from companies such as Google, Salesforce and Walmart are active customers. Other well funded startups are also competing in the "not quite hotels but not quite Airbnb" space. In 2019 Sonder raised $225 million (bringing its total to $360 million) and Lyric raised $160 million (with some funding from Airbnb). Read more.
2. How much did hotels, OTAs and airlines spend on TV in the US in 2019?
Little, if compared to what they spend in digital marketing. Among the three sectors, hotels was the only one to significantly increase year-on-year spend (by 32%), while airlines cut their spend in half, and online travel agency and metasearch sites were flat compared with 2018. Booking.com had the largest TV advertising investment in the US, with $134 million. Hardly a drop in the bucket, compared with Booking's $5 billion marketing budget, and despite its intentions of shifting more of its overall sales and marketing spend toward brand advertising, including TV. It is indeed hard to find alternatives to Google's effectiveness as a marketing channel. Read more.
3. SoftBank-backed Oyo is firing thousands across China and India
In our previous newsletter we mentioned that there were rumors that Oyo was planning to lay off thousands of employees in January. Bloomberg is now confirming that Oyo has laid off some 1,800 employees across India and China, with plans for more than 1,000 additional cuts in the coming months. SoftBank has so far invested about $1.5 billion in Oyo.
4. The Capital-as-a-Moat strategy is under fire
Bill Gurley, General Partner at Benchmark and one of Silicon Valley's top tech investors, had shared a couple of interesting tweets this past weekend.
Increasingly seems like we are entering a new reality in Unicorn land. If you have raised more than $250mm & are NOT public, the presumption is you are losing WAY too much money, and you probably have shitty unit economics. And probably need to do a lay-off (like Oyo & others).
Of course, if you object to this classification you can always publish your financials. Which would undoubtedly be a power move. I know it feels like "guilty until proven innocent" but I think these are the new rules.
5. Ride your luggage through the airport
The travel industry has been a new focus area at CES 2020 in Las Vegas, the world's largest consumer tech show where smart luggage exhibitors were well represented. From motorized luggage to suitcases equipped with WiFi hotspots, high tech luggage startups are trying to make the trip through the airport easier and more fun. Modobag is billed as the first rideable, motorized carry-on luggage. Its TSA-compliant suitcase has a battery, a steering mechanism with hand brakes and can cruise at 7 mph with a range of about seven miles. Read more.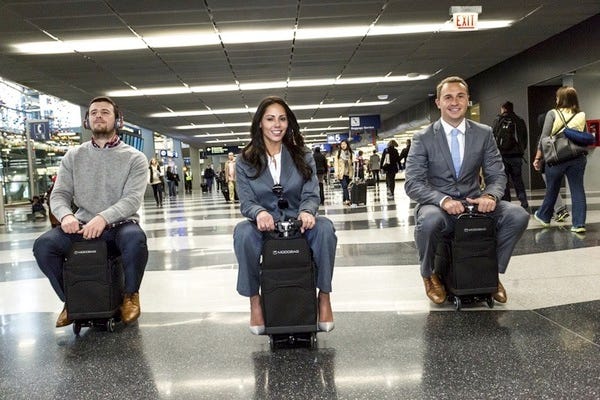 Modobag riders, coming to an airport near you
6. Uber is making moves to become the de facto smartphone app for all modes of transportation
At the CES show in Las Vegas, Uber announced that customers will now be able to use the app to ride the public bus in Las Vegas, and stated that public transportation will play a big role in the company's future. Last May, Uber announced that it would begin selling train and bus tickets for customers in Denver, Colorado. Las Vegas is the second city for which Uber is including the ability to purchase transit tickets directly from its app. Uber has faced criticism for its negative effects on public transportation and the company hopes to lessen that criticism by giving public transit equal access in its app. Read more.
7. Eleven travel startups to watch out for in 2020
10 years after its launch, Airbnb has transformed the travel and hospitality sector and redefined how an entire generation approaches travel. Plug and Play's Travel & Hospitality team highlight 11 travel startups to watch out for in this decade.
8. An alternative to OTAs?
Sojern will offer its digital marketing solutions for hotels as a subscription model. Offered as an alternative to a hotel's distribution deals with OTAs, Sojern's platform delivers personalized advertising to consumers across multiple devices and digital channels for direct booking at the hotel's website. Sojern has 10,000 Customers in 140 Countries. Read more.
9. Funding and deals 💰
Glad to see that 2020 is starting well for a few Spanish travel startups:
10. Promising startups ⭐
Unicorn NLP is a Polish startup founded in 2018 that specializes in delivering highly accurate and deep Language Understanding APIs, mainly to process travel reviews.

Zenner, based in Israel, is a TMC and traveller facing flight disruption management solution which is both predictive (identifying disruptions early to widen the set of potential resolutions) and airline agnostic. It alert travelers upon disruption (flight delays, cancellations, missed flights), and rebooks them - according to their selection - on any airline heading to that destination, and for no additional cost.

RubiQ, also based in Israel, offers a flight disruption solution for airlines, helping them resolve flight disruptions when such occurs, retain customers and reduce costs by allowing their passengers to self-manage flight disruptions.
👍 If you like this newsletter, I would appreciate if you forward it to a friend or colleague. And hit reply (or via Twitter) to send me feedback, ideas or suggestions. Until next time,
Mauricio
P.S. Were you forwarded this newsletter? Sign up here